Meet Gynelle, our latest #humanofRIXO and cacti- enthusiast. Gynelle is the founder of PRICK LDN, London's first boutique dedicated entirely to cacti and succulents. Gynelle invited us down to her gorgeously green shop to meet her and the plants for ourselves and see how she styles her favourite RIXO pieces!
What made you move away from a career in the city to opening a cactus boutique?
Firstly I love all house plants especially cacti and succulents as they were able to survive my neglect. I was training part-time to become a florist when I noticed a mssive demand in house plants and a lack of dedicated shops. I was travelling up to a nursery in Linconshire (4hrs drive) to get the unusual cacti I craved and one day I googled looking or a cactus shop in london as I didn't fancy the trek and couldn't believe there wasn't one – I thought "I should open one…and call it prick".
What inspired you to start PRICK LDN?
My love for contemporary art and design and plants and the lack of a stock where I could by healthy diverse house plants and beautiful pots – I wanted to create a brand that encompassed all of this!
Where has been your favourite place you've visited on your travels?
I set out on a road trip from Utah to LA to see cacti in the dessert. However in Utah I was able to trek through the Bluejohn Canyon which was unlike anywhere I had every been to; beautiful red sandstone slot canyons (think of the movie 127 hours – thats where it happened)
What is your favourite succulent and why?
One of my favs is the Epiphyllum anguliger aka fishbone cactus is so much fun its shape is llike an 80s graphic so it instantly pattern and movement to a room and is a great hanging plant.
Pro tip for keeping greenery alive while balancing a busy life in the city?
Pick a watering day – set an alert in your diary and spend that time every weeking watering and taking time to check on the health of your plants. Its easy with a busy life to forget when you last watered or even looked at your plant. Choose a day when you are usually home like a Sunday morning or evening.
Favourite place in London to spend a Sunday?
Shoreditch – its such a great combination of great brunch places, shops, markets and exhibitions…oh and people watching.
You have a busy day ahead, what piece of RIXO is you go-to?
The Charlene teamed with a pair of white stan smiths – its so easy to wear move about in and has a flare of fun and elegance
×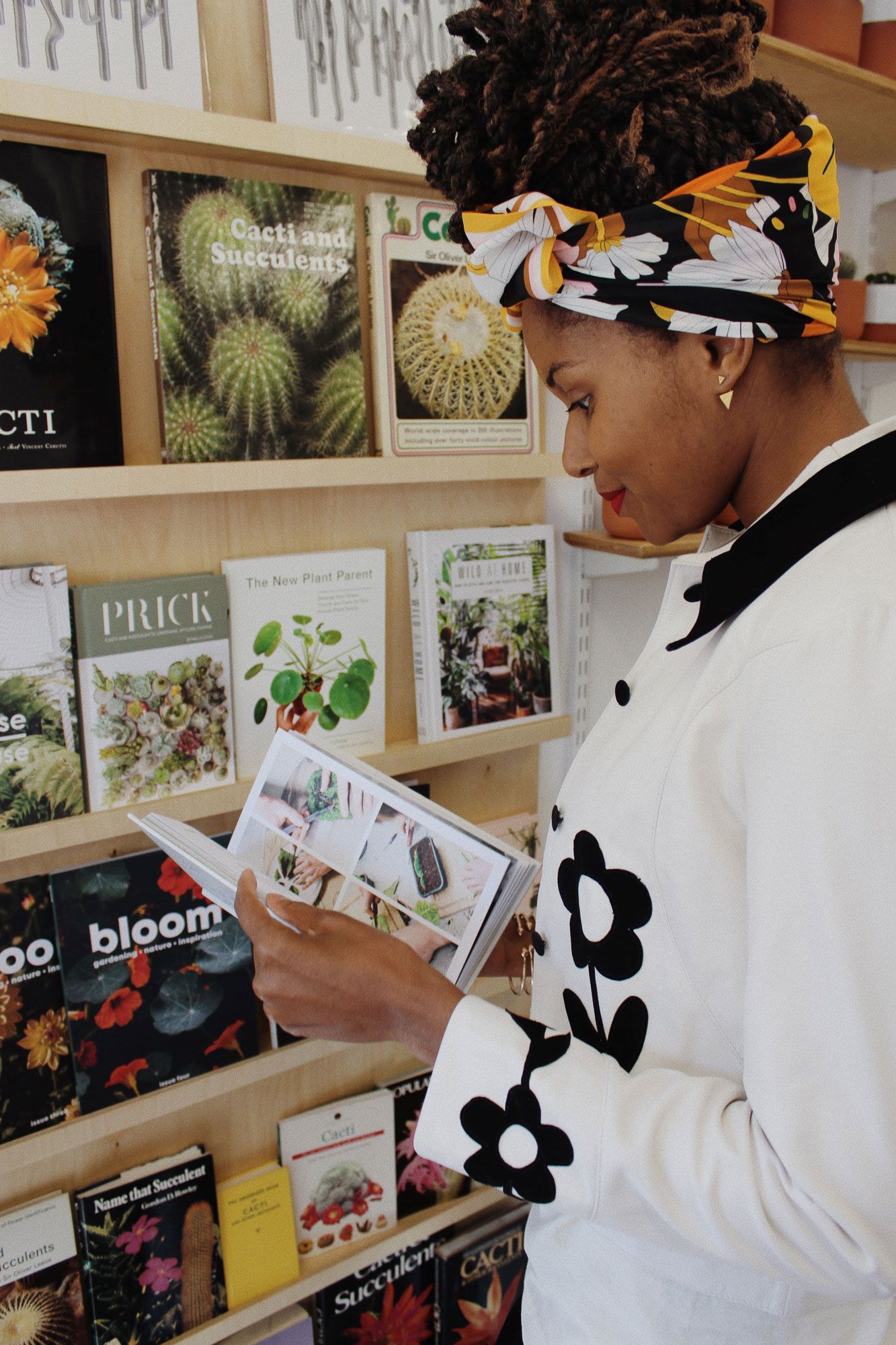 How will you be styling the new collection this autumn?
I am in love with the jagger-green black paisley scarf and the patch work scarf which I will be using to make a headwrap for my hair – great protective style for the harsh winter weather
Back to the garden tee with a pair of washed out vintage jeans
The Cher – black and off-white mini shirt and jacket is the dream combo and as a massive monochrome fan will become my new uniform – I will be rocking with chunky black heels or white stan smiths with a plain black tee
My favourite dress is the Margareta which can be worn day to night with some chunky sandals or my favourite white trainers and a vintage denim jacket.
What one piece of advise would you tell your younger self?
Don't act out of fear; when you move out of your comfort zone you end up learning the most.
What book or podcast are you listening to?
Sarah Akwisombe: No bull business women podcast
FOLLOW:
PRICK LDN / @prickldn