Mouna Traore @_mounatraore –
Best piece of advice?
"What is meant for you will never be meant for anyone else".
Favourite coffee shop? 
My favourite coffee shop in LA is inside Stories, a quaint little bookstore in Echo Park.
Favourite book or podcast? 
My favourite book is the sci-fi fantasy series Red Rising by Pierce Brown. Those books are like crack to me!
Beauty product you can't live without? 
I can't live without my Evan Healy Green Tea Clay Mask. It makes me feel like I've had a mini face lift!
Tell us a bit about yourself..
I am a Canadian actress, filmmaker and budding comedian based in LA. Over the years I've appeared in numerous projects, including Suits (USA), American Gods (Starz), In Contempt (BET). On March 20th, you can watch me in the new Netflix series 'Self Made: Inspired by the life of Madam C.J. Walker' alongside Octavia Spencer, Blair Underwood and Tiffany Haddish.
What does style mean to you?
Style is how I express my personality and all the various sides of me. Style isn't just about following trends or what's new, it's about making a statement and expressing my creativity. What I choose to wear expresses my mood, my intentions for that moment and my social/political beliefs. Supporting local indie brands, and sustainable clothing companies is super important to me and something I do on regular basis.
×
×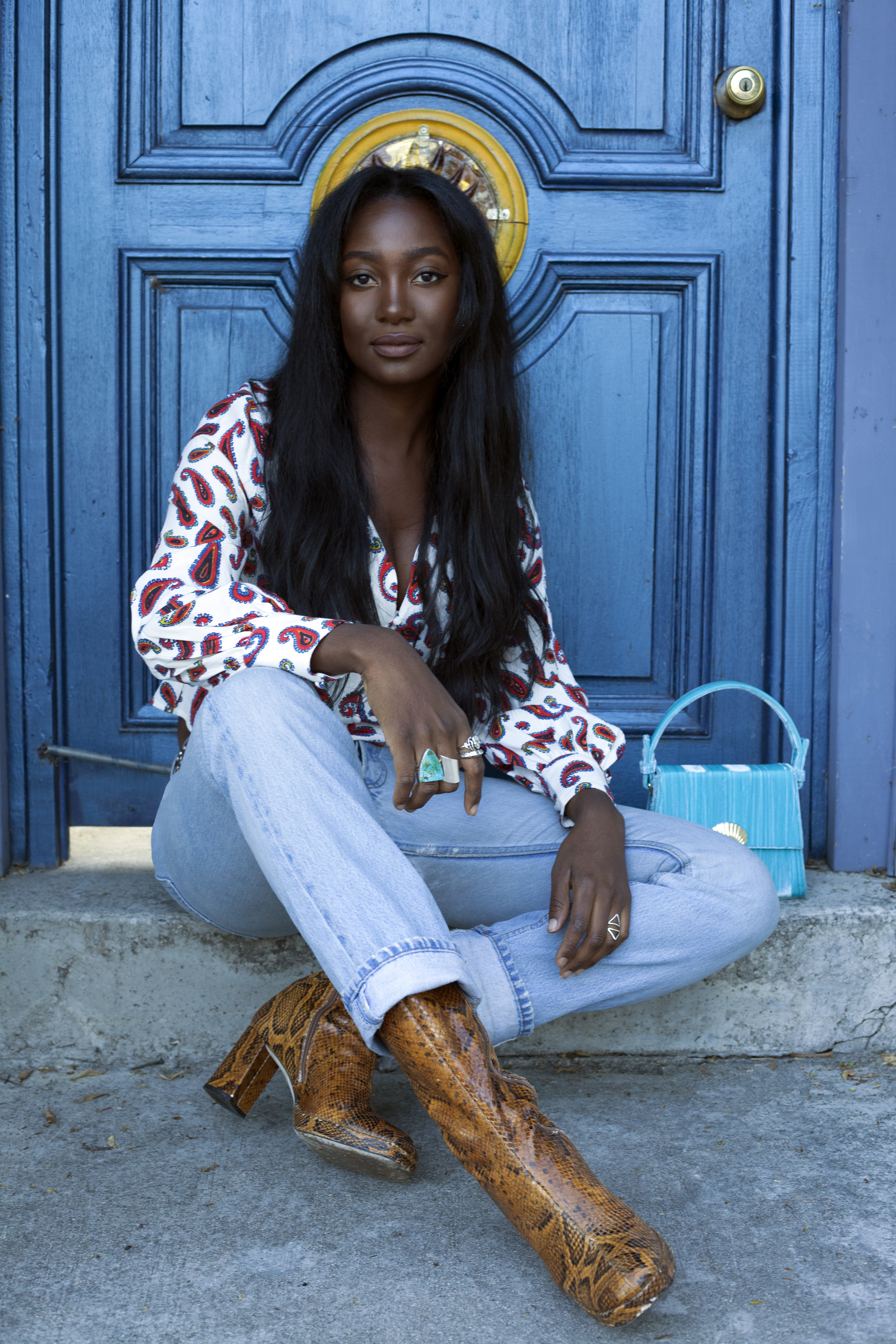 Are there any causes or charities that you support?
I just started working as a mentor with Young Storytellers – an organization that encourages young people to explore their creativity and imagination by writing stories, using their own unique voices. Every week I go to an elementary school and work on developing a script with a child and at the end of our 8 week session, the organization recruits professional actors to perform at a big show with the family and friends of our young writers! I'm really excited about this because I'm passionate about connecting with young people and using my experience and resources to support them in whatever way I can.
What piece of RIXO do you love or have your eye on and why?
Right now, I am LIVING for the entire Rixo x Christian Lacroix collection! The Nicole – Azure Blue Jewelled Embellished mini dress definitely has my eye. I love the collection because it's sophisticated and fun, and as versatile as I feel! I love clothing that I can wear up or down on any given day and feel like I'm making a statement, and the Rixo dresses that I own always make it easy.